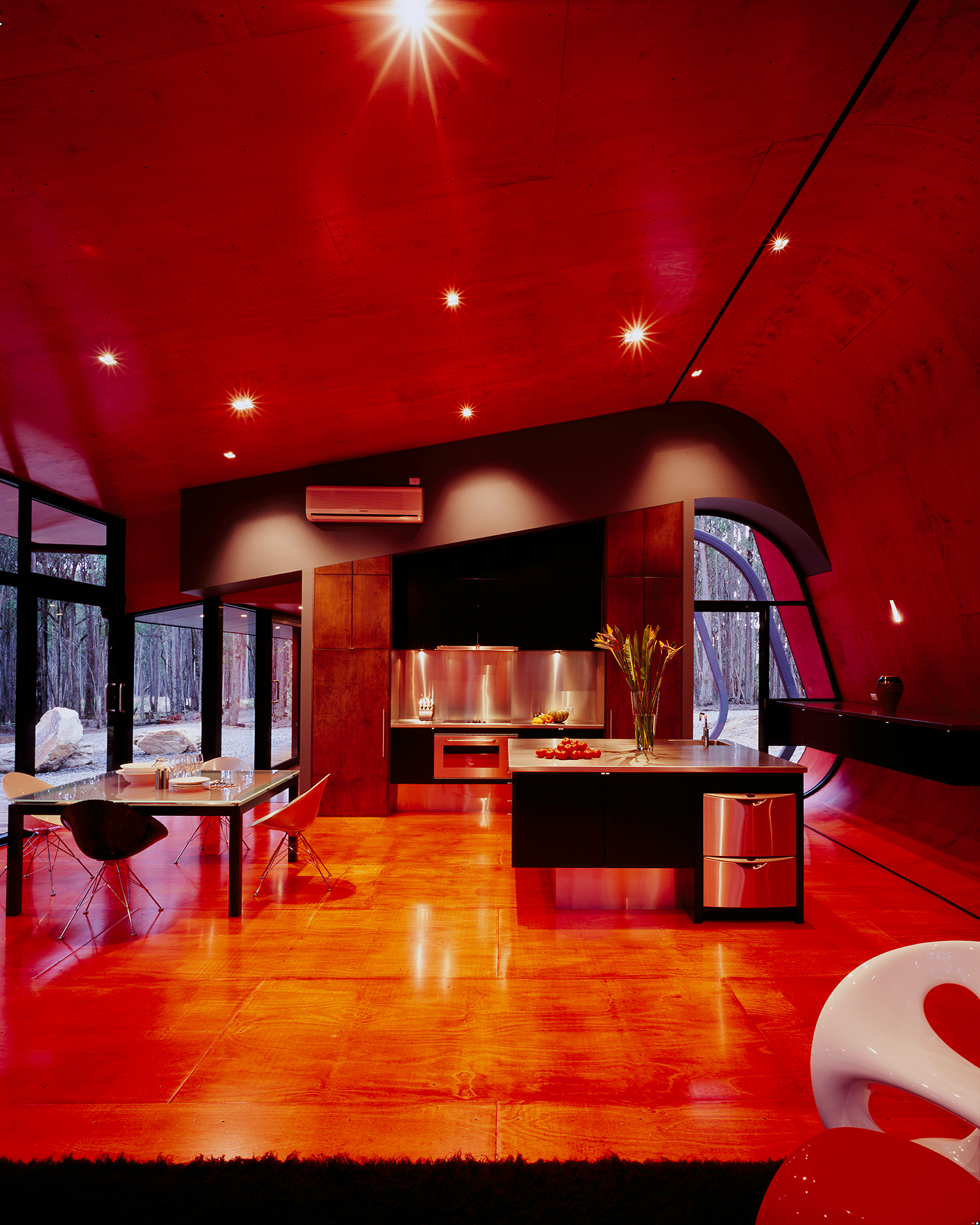 Tallarook House
TALLAROOK 19 months / 2014
ARCHITECT Mark Richards Architects
PHOTOGRAPHY Trevor Mein
The approach to the Tallarook house is via a meandering drive that slowly reveals a series of gabled rooftops. The gabled roof forms crown linear pavilions and create a horizontal datum. Below this datum the linear pavilions stretch across the site in order to maximize the views. Entry into the house is via a grand concrete bridge that dissect the house and cantilevers toward the view. Recycled and salvaged timber is a feature of the Tallarook house. Most of the timber was salvaged from the restored Princess Pier in Port Melbourne.
AWARDS
WINNER Master Builders Gold Award, October 2015 — Victorian Regional Builder of the Year
WINNER Master Builders, 2015 — Victorian North East Regional Housing Awards, Best Custom Home Over $700K
WINNER Master Builders, 2015 — Victorian North East Builder of the Year
Marysville House
MARYSVILLE 8 months, 2011
ARCHITECT Steffen Welsch
PHOTOGRAPHY Brendan Finn
Resilient Rebuild – A true 8 energy efficient and fire resistant home with a small footprint that responds to a steep topography and embraces its natural bush surrounding. External skin is radial sawn silver top ash and galvanised steel canopy, incorporating a spacious living room, bathroom, kitchen and a mezzanine as a sleeping space. A glazed northern face maximises solar gain and smaller windows openings on west, south and east for natural light and ventilation. Cross wind ventilation is achieved by the use of operable windows and internal ceiling fans. Internal skin is lined with hoop pine and bench tops recycled red gum. To assist the assimilation into the bush is a blackbutt warfdeck with red ironbark deck sunshade posts, external stairs and handrail.
Wheatsheaf House
DAYLESFORD 16 months / 2005
ARCHITECT Jesse Judd
PHOTOGRAPHY Peter Bennetts
AWARDS
FINALIST Royal Australian Institutes of Architect Awards Victorian Chapter | Residential, New
RUNNER UP Design Institute Interior Design Awards
STATE WINNER HIA-CSR Victorian Housing Awards Most Innovative Use of Steel
NATIONAL WINNER HIA-CSR Australian Housing Awards Most Innovative Use of Steel
SPECIAL COMMENDATION Dulux Colour Awards Residential Interior Awards